Today is the one year anniversary of me standing on the top of the world, and I thought I would share with you what I did during my time on the summit. When I read things like "First Tweet Sent From Top of Mount Everest" and people's reactions, or what they think they would do at the summit, it makes me think back to when I was up there.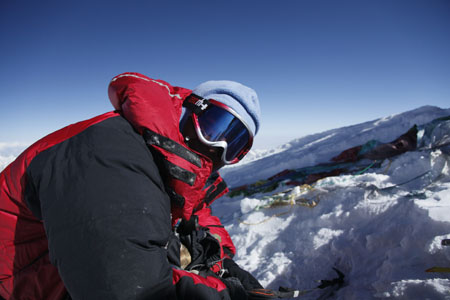 So here goes. I think we got up to just below the summit at around 7:40 am. First thing I did was take off my backpack, kneel down, take a breath. Then I start thinking, OK, what did I want to do up here again?
One of the first things I did was take out my cell phone, which I had been keeping warm in a pocket close to my body. I turned on my Nokia E51 hoping to get a signal so that I could send a text message home. I had had limited success sending texts from Base Camp thanks to the new tower close by, and I hoped either that or the Chinese tower that was supposed to be nearby could give me a connection. I started typing the message, but I got a little cold in my fingers, and seeing that the phone wasn't catching a signal I put it away.
One of the next things I did was check my watch for the absolute barometric pressure. People always say "the pressure on the top of mount Everest is 1/3 of sea level", and I just wanted to see if that was true, and how close to 1/3 it was! Anyways, I checked, but didn't write the number down, and the way altitude works is you easily forget. So I didn't write down the exact number, but later wrote it down as what I remembered it to be approximately, and it was indeed right at the 335 hPa mark.
Next I took out my camera and checked to see if it was working. Unfortunately the battery was dead (due to the extreme cold), but I had one (or maybe even two?) spare batteries nice and warm in the same pocket I kept my phone (it was a crowded pocket). I popped that in and it worked! Pictures started to be taken at 7:45 am.
One of the things I did, it probably wasn't next but sometime earlier, was disconnect my oxygen mask from the bottle. That way I could move around without needing my backpack on my bag. I had promised myself I wouldn't do this after seeing the effect it had on me on the summit of Cho Oyu, but at this altitude it's difficult to think logically. I guess I wanted to not carry my backpack, or maybe Lhakpa, my Sherpa, encouraged me to leave my pack on the ground. Whatever the reason, I disconnected it, but left my mask on my face (to keep it warm and prevent freezing of inlet and outlet ports).
Next comes all the picture taking. I took some pictures, first in the direction that the sun was shining on, then in the direction we came from, and kinda all around. Then I gave the camera to Lhakpa and he took some pictures of me holding the World Vision flag. This was all with me sitting just below the summit, and only at about 8:00 am I have pictures of myself on the actual peak. (Remember, Everest summit doesn't count unless you get to that very point!)
We kept taking pictures and videos, swapping cameras, and the pictures stop at about 8:15 am. That's when it seemed like there was nothing else left to do, or more accurately, I felt like I should get the hell out of there because it was impossible to knock the thought out of my mind that we still had a long way to go down; we started packing up. I took my second pair of goggles out of my bag so that I would have an unfogged set. I put everything in my bag, put a little bandanna around my face to cover the sun burn (I would later have to stop and have Lhakpa help me cut a hole in that bandanna with my ice axe so that I could breathe the oxygen more freely). When we were about to set off I remembered it would be cool to have a 360 degree panorama from the summit, so I filmed that, and kept my camera on me so that I could take pictures as we were going down. That last video was taken at about 8:33 am. So, I guess we spent just over 45 minutes on the summit.
That's about it! Seems like a lot to write for a pretty uneventful stay on the top of the world. I didn't quite get into what my thoughts were but that was all just altitude induced stupidity and not much else.
Best of luck to all the people heading up the mountain this year. Take care!
Tags: climbing, everest, mountaineering, summit, wiktor mazur