For my first real trip out and about in Bolivia, another BG new grad and myself went on a two day hike in a town a couple hours away from where we live. The area is higher in elevation and provides a slightly cooler climate, which was a good break from the heat and humidity we usually have in Santa Cruz. It's also more mountainous and jungle-like than the city.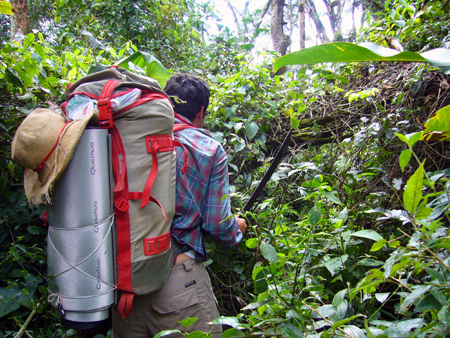 The hike was through some very dense forest, and our guide Erwin had to use his machete often to cut a (very narrow and small) path for all of us. It was some tough hiking though, and being tall did not help me, at some points I had to go on all fours (with my backpack on) to get through the dense greenery! There was so much pathless jungle to navigate through that by the end of the hike our guide could not raise his machete hand to even point things out to us!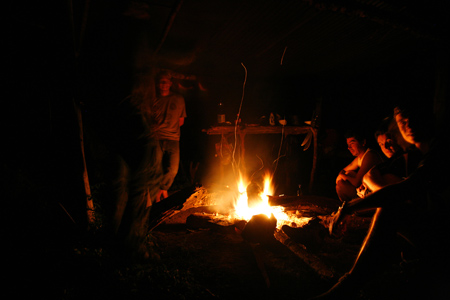 We had a nice campfire on the night we spent in the jungle, and met some other Italian hikers there who were doing a similar route, though we never actually saw them while hiking! Other highlights included looking at Puma and Jaguar tracks on the ground, though we never spotted the animals themselves! (Click on any of the pictures to go to the gallery and see more).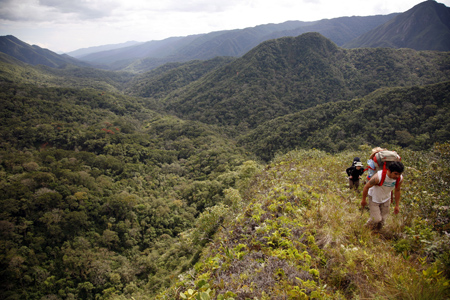 All in all it was a nice trip, all the more so because it was my first getaway in Bolivia after all the time I spent working in the field. It was also a bit of training for me as I plan on climbing some mountains in Bolivia's Andes, which I will be doing in the next few weeks, so stay tuned for some pictures and stories from that!